Let's get international. It's time to dive into your burning questions about EU and UK shipping options with ShipperHQ.
Does ShipperHQ Have an Integration with UK or EU-based Shipping Carriers?
Starting off with the big one. At the moment, we do not — but hear us out. From a product perspective, Royal Mail and DPD don't have an Application Programming Interface (also known as an API for our engineering-lingual friends), which means we can't integrate with their system like we can with carriers like UPS and FedEx.
Also, we have found that almost all of our UK and EU merchants actually prefer to utilize table rates instead of live rates from Royal Mail or DPD when shipping their products.
So, while we don't have any integrations with your carriers at the moment, we still have plenty of great shipping options for you.

Why Do UK and EU Merchants Prefer Table Rates?
Well, for one — if you are in the UK or the EU, then table rates are way more straightforward. Instead of getting into the depths of volumetric rates and heavy calculations (that are difficult to get accurate with your specific carriers), you can simply use table rates for easier and smoother shipping.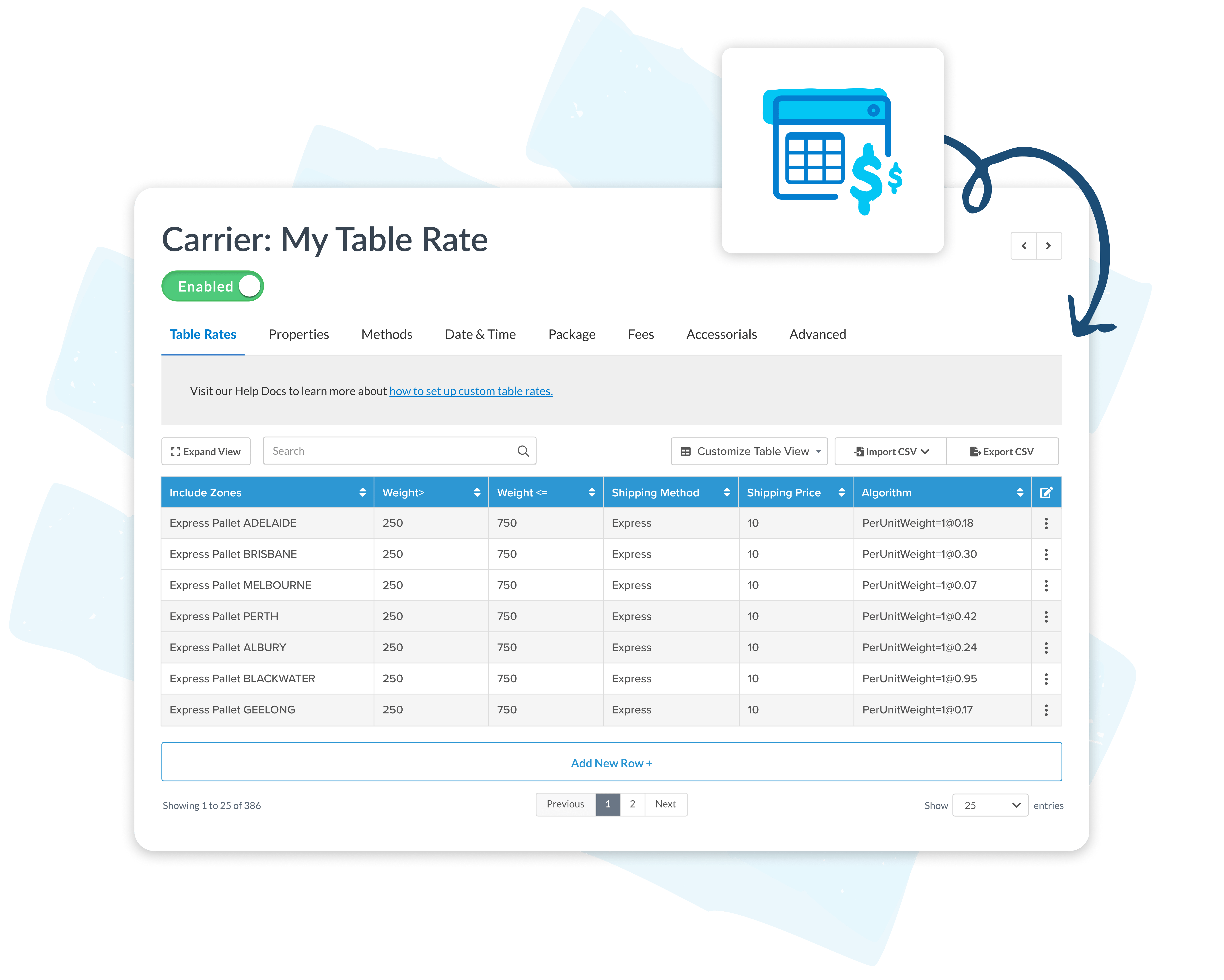 Also, customers don't necessarily want to see that they're paying more for a product's delivery simply because it's heavier, which tends to be how these carriers calculate their live rates. Instead, a flat rate and tiered option is much more UK and EU customer-friendly, as well as simpler for you in the long run.
Tell Me More About These Table Rates
We'd be happy to tell you more. Oftentimes, table rates can be misunderstood since they seem like a one-dimensional option. In actuality, there's a lot that can be done strategically with table rates — making them work for your overall shipping strategy, not against it.
Let's actually go a bit deeper into the benefits of table rates:
4 Benefits to Using Table Rates for EU and UK Shipping

1. You can still set your own date and time parameters
Transparent delivery date and time is one of the most impactful parts of a shipping strategy — it's been shown that customers prefer to know exactly when their product is arriving (and who can blame them?). So, you can still integrate this offering regardless of whether you are using table or live rates.

With this feature, you can also offer customers specific time-slot delivery options. This means they can choose specific delivery windows that best suit their schedules leading to fewer failed deliveries or stolen packages.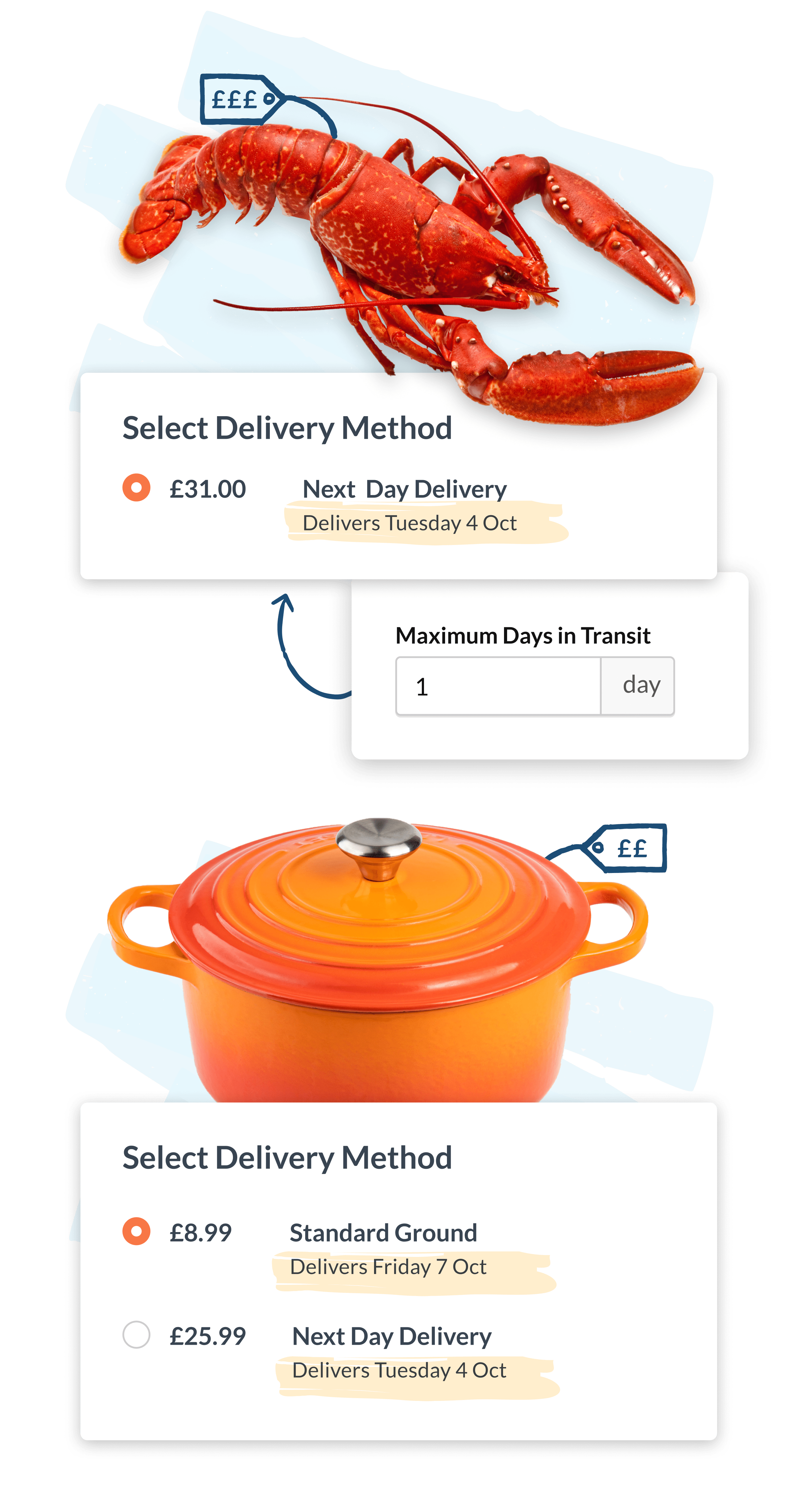 2. You can offer a 'Collect in Store' option
Are you a local bakery based in Paris that's known for your fresh-from-the-oven bread? With table rates, you can still offer a local pickup option with specific parameters included, like radius and time slots. This way your customers can still get their baked goods in time for dinner.
3. You can set custom rates for geographic zones
This can be as specific as a single postal code or as broad as multiple countries. You can even restrict a rate from showing up unless the customer is within a certain radius. This can actually incentivize customers who are located closest to your main warehouse since you can offer a more competitive rate. Yes, you can get that granular.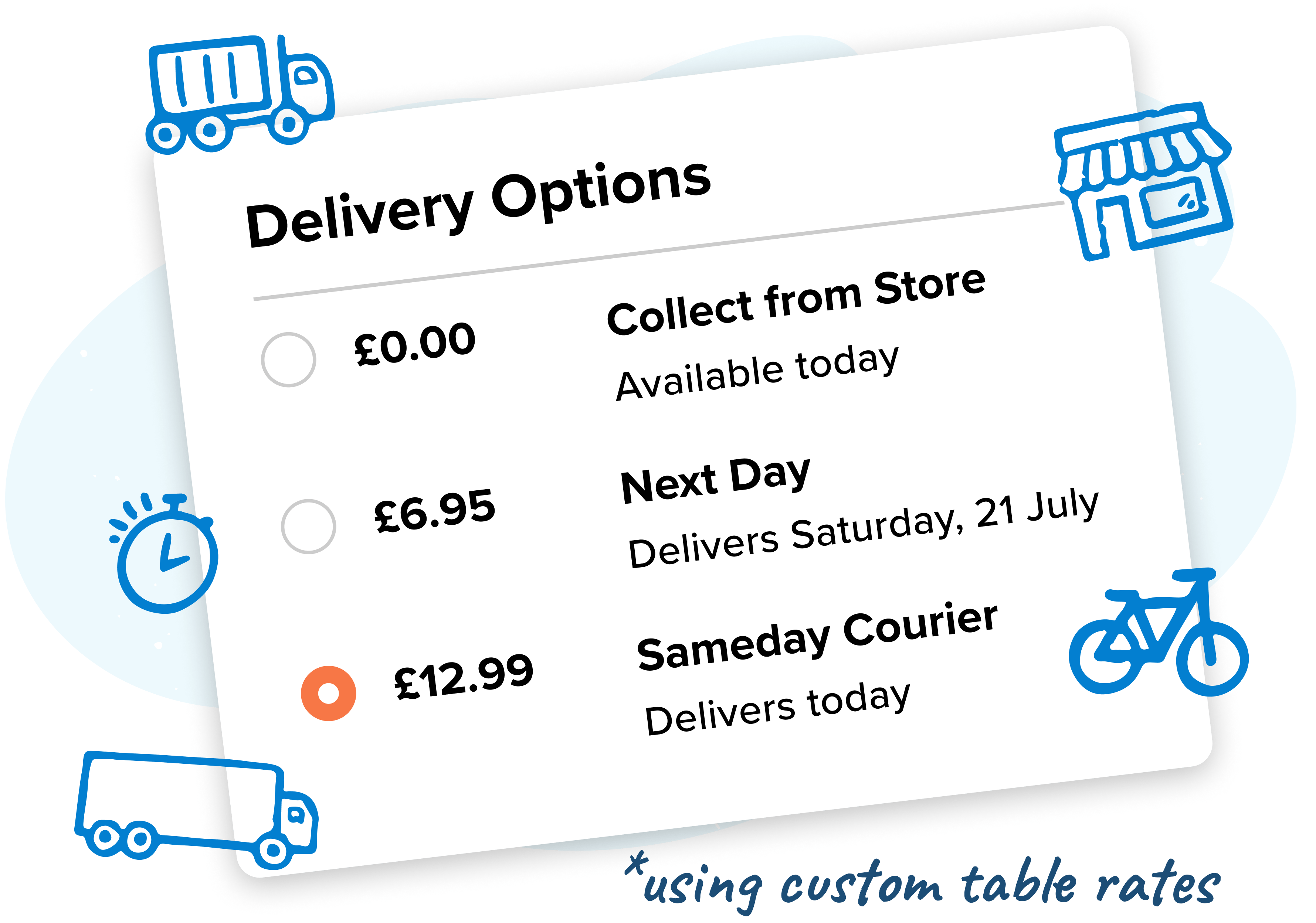 4. Flat rates are quick and consistent
To put it simply, a flat rate is — well, predictable. From a processing point of view, calculations are done fairly quickly since it's straightforward every time. From a budgetary standpoint, using table rates can help you maintain shipping margins and keep costs consistent over time.
Customer Success Story Time
UK-based homeware retailer Cox & Cox knows firsthand how important shipping flexibility is to their customers. They offer a wide range of unique products, all of different shapes and sizes. Their shipping strategy relied heavily on table rates, but they knew they needed to incorporate more nuanced options within those rates. This is where we come in.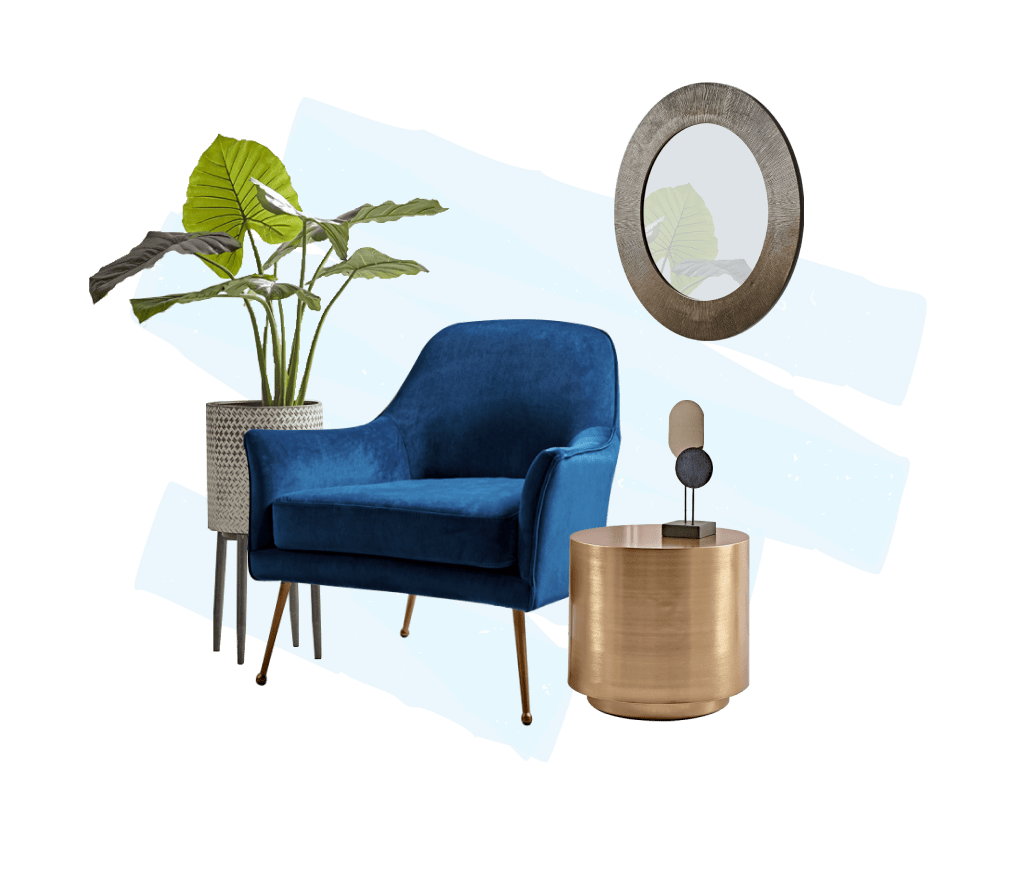 By using ShipperHQ to create more customizable UK shipping rules, they were able to add specific parameters and increased agility to their delivery offerings. This meant they could present customers with more defined options — all while streamlining the shipping process.
Aynsley Peet, the company's Ecommerce Director, says it best:
Thanks to ShipperHQ, we can give our customers better shipping options. And rates that make sense for what they are buying. We created rules based on whether a customer is buying a small or large product, when expedited or express services are available and if restricted shipping is necessary. This is important for items that can't be shipped overseas or in certain EU countries, like child items or sofas.
Not only did Cox & Cox discover more flexibility within their table rates, but they also freed up the time and energy to watch their sales accelerate in record time. As in, over a 100% increase in sales year-over-year.
Interested in seeing how you can enhance your shipping strategy, regardless of where you're based? Start your free trial with ShipperHQ today!