Last-minute shipping fees hurting your bottom line? Learn more about how ShipperHQ's address validation feature can save you time, money, and lost profits.
You know those hidden fees that tend to pop up when you least expect it? Like, the ones on cell phone plans or after a weekend in Vegas?
What if we told you that when your eCommerce platform does not offer address validation, those charges can come back to you? That is definitely not a fun surprise. You may see this in your bills as "residential surcharge" adjustments!
Here at ShipperHQ, we know how much your business relies on the most accurate rates when it comes to shipping their products. Which is why we are adamant about making sure merchants understand the importance of address validation.
First Thing's First: What is Address Validation?
ShipperHQ's Address Validation feature is…well, pretty straightforward actually. It's a feature that automatically validates if the shipping address on an order is residential or commercial. This information is then passed to the carrier so that the shipping rates for this order are always 100% accurate. No more hidden costs!
How Does This Work in ShipperHQ?
Like most of our features, address validation works seamlessly. (Sorry, we had to shout out our product team!) With ShipperHQ, address validation works with UPS or FedEx to validate customers' addresses (in the US and Canada specifically). So, as long as you have one of those set up with us, this can be used for any carrier on your ShipperHQ account.
Also to clarify — address validation within ShipperHQ includes aspects like:
Dynamic Address Type Lookup (AKA is this going to a Business or Residence?)
Dynamic Address Validity (AKA is this a valid or invalid address within UPS or FedEx?)
Address Suggestion at Checkout (AKA do you mean 'this' address?)
Residential Selector (AKA validate your address as a business or a residence directly!)
With ShipperHQ, we include all of these elements as part of our address validation service, although there are some differences across eCommerce Platforms. Here is a nifty chart for you to reference!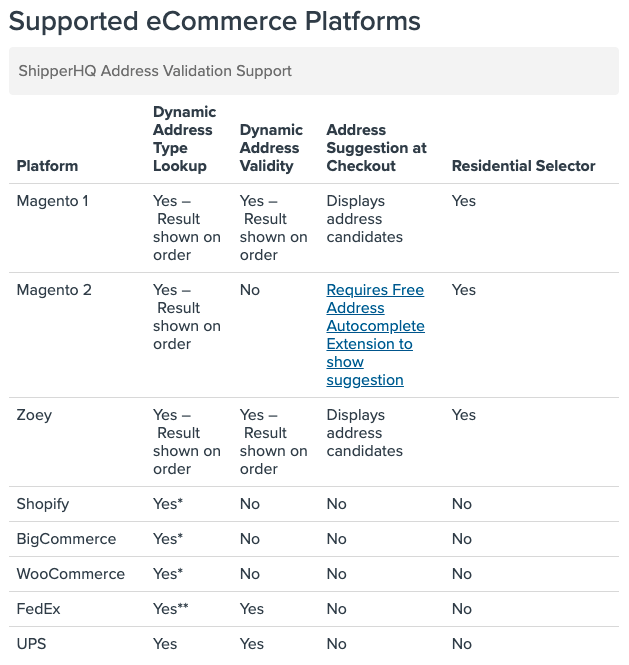 How Our Customers Use Address Validation to Save Money
Let's start with Tecovas — an Austin-based retailer with showstopping western-wear products. Tecovas found that with ShipperHQ, they were able to validate customers' addresses with more ease and efficiency, which led to some serious money-saving benefits!
We spent some time doing manual address validation before, but knew a third-party Shopify app like ShipperHQ could do it a lot better than us and give us valuable ROI." – Noah Solomon, Digital Director at Tecovas
Aside from automating the process, they also found that ShipperHQ helped prevent incorrect location deliveries and invalid address charges. In other words, it is quite the well-rounded tool for merchants.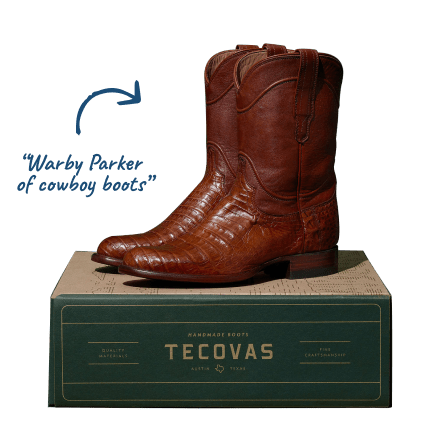 Marysville Marine is another ShipperHQ client who saw how address validation increased the accuracy of their shipping rates. This wholesale distributor of marine engine parts saw that when delivery addresses were validated automatically, there was a decrease in unexpected delivery fees, as well as fraud attempts.
"The combination of Magento and ShipperHQ features have allowed us to operate more efficiently behind the scenes and provide a more transparent and streamlined experience for our customers, leading to higher conversion rates and improved customer satisfaction," – Ryan VanHoozer, Vice-President of Operations
3 Ways Address Validation Helps Your Business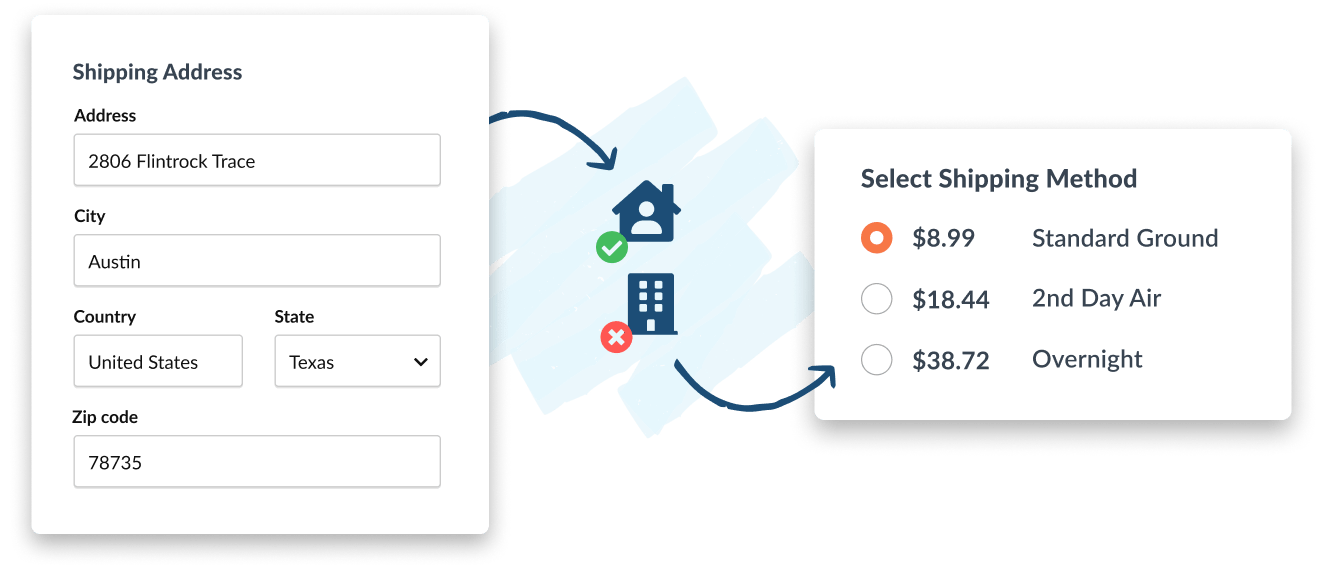 Aside from improved ease of delivery, there are multiple ways that incorporating address validation into your shipping operation can help your business. Let's break down three of them (otherwise we'd be here forever):
1. More Accurate Rates
As we mentioned, an address validation feature allows your checkout to show accurate rates with residential delivery charges included. This is essential to both you and your customers since no one likes surprise fees after an order has been placed.
When your checkout can automatically validate an address, then everyone is shown the most accurate rate for their order; no last-minute surcharges or rerouting fees!
2. Higher Profits
Accurate rates are required to manage your operations and, in turn, your profits. Having address validation means you can reduce the number of unexpected charges that end up eating into your sales. So knowing exactly how much of your budget is going into your shipping costs can help you with your overall business strategy.
Also, address validation works whether you are a small or medium-sized business using list rates or if you are an enterprise merchant with negotiated rates. Either way, you can use this feature with your current carrier set up to lead your business towards higher profits and money saved over time.
3. More On-Time Deliveries = More Satisfied Customers!
Is there anything more disappointing than when your delivery doesn't arrive when you thought it would? With address validation, the carrier has accurate information, which means more on-time deliveries and a higher number of satisfied customers.
For example, if the customer lives at a residence but the address was entered as commercial (and it wasn't validated), the carrier may not deliver the package outside of business hours. This means the delivery is delayed for the customer — definitely not ideal!
These are just a few of the reasons why address validation is so important to your shipping operation and strategy.
The main takeaway — though it may seem like a simple feature, it has rippling effects when it comes to delivery efficiency, shipping costs, and customer satisfaction. So definitely don't sleep on it!
Interested in learning more about how address validation can improve your customers' experiences and save you from last-minute fees? Sign up for a free 15-day trial today!