Brand loyalty has decreased during the pandemic as more and more people have adopted ecommerce. As John Furner, President and CEO of Walmart US, said, "Loyalty in retail is just the lack of something better."
Thanks to an increase in substitutes for most goods, consumers have readily taken to brand switching in 2020, leading to decreased loyalty. With convenience and personalization at the forefront of consumer experience, shoppers have fewer incentives to remain loyal to a brand. This gives retailers an unprecedented opportunity to capture new customers, but they'll need to work harder to keep their old customers from moving on.
What Does Brand Loyalty Look Like Today?
According to the DotDigital Hitting the Mark 2020 Report, 39% of shoppers say it takes them five or more purchases before considering themselves loyal to a brand. However, once they do hit the threshold for loyalty, 35% will spend more with a brand even when there are less expensive substitutions from other retailers.
Retailers have to put in more effort to retain customers, but the work is worth it once customers are "loyal". So now the big question: where should retailers be investing that effort to get the most return?
The Effect of Loyalty Programs During COVID
Although retailers have a big opportunity to acquire new customers, they also have to work harder to retain old customers and prevent them from switching to another brand. One of the best ways to maintain relationships with past customers is by offering a great loyalty program.
The best programs make shoppers' lives better and easier. These programs are easily accessible from smartphones and allow customers to pay straight from the app without a physical card. They also reward loyalty by allowing customers to earn points on everyday purchases, offering early sales access, and providing offer codes with later expiration dates.
Here are some quick stats from Forbes that show the importance of a well-designed loyalty program in times of crisis:
71% of consumers say loyalty programs are a meaningful part of their brand relationships
15% of consumers are more likely to buy from a brand if they are part of a loyalty program
79% of consumers say loyalty programs make them more likely to continue doing business with brands
75% of consumers say they are likely to make another purchase after receiving an incentive
That's one way retailers can build loyalty, but how can they avoid damaging loyalty and losing old customers?
Issues with Customer Experience Are Most Damaging to Brand Loyalty
In 2021, 67% of company executives say they will increase investments in website experience. For a great customer experience, flexibility and customization in technology are key. One of the most effective investment opportunities to invest in is hyper-personalization. Retailers can grow their revenue and customer lifetime value with a long-term personalization strategy, which allows them to increase brand loyalty by significantly improving site usability for each customer.
Here's how personalization works best:
Deliver customer engagement throughout the customer journey, rather than just at the end of the shopping funnel. Hyper-personalization of the entire online shopping process, from acquisition to conversion, pre-checkout to post-checkout, is the next normal. Consumers want brands to understand them. That's why the relevancy of the experience a brand provides is just as important for loyalty as rewards. Invest in personalization technology, so even first-time website visitors will discover experiences that are more relevant to them.
Focus on omnichannel personalization. Hyper-personalization now requires a focus on omnichannel delivery, which allows brands to utilize both offline and online opportunities to provide more tailored experiences. Omnichannel retailers have the advantage of giving customers the convenience of picking up orders locally or having orders shipped directly to them.
How An Optimized Shipping Experience Can Seal the Deal with Customers
Shipping is a great way to gain loyalty based on dependability. The right shipping technology is essential to ensure that the journey from pre-checkout to post-checkout is seamless and personalized.
Transparency at checkout
One of the main reasons consumers abandon carts is due to lack of delivery information. Customers value honesty, so clear communication about shipping and delivery is key to nailing down a great online experience. Since 82% of consumers prefer to shop from a retailer that shows actual delivery dates, this feature is often the moment of truth before order completions. Thus, one best practice is always to display delivery dates (Mon, Dec. 21st) instead of shipping speeds (ships in 3-5 business days) wherever possible.
ShipperHQ allows merchants to show delivery dates and times in checkout while also providing clear delivery cutoff dates and times for products (Order by 12 pm on Friday, Dec 11 for delivery by Saturday, Dec 12). This additional feature allows merchants to add a sense of urgency to orders and decrease the number of abandoned carts.
Convenient and customized shipping/pickup options
Consumers no longer have to trade convenience for affordability. That's why it's more important than ever to offer the delivery options that are best for your customers in checkout. Our recent research tells us 41% of consumers prefer to have orders shipped to them, but 45% actually prefer to pick up orders themselves.
Omnichannel retailers are able to set up Buy Online Pickup In Store (BOPIS) and Curbside Pickup options for local shoppers. Merchants without a traditional storefront can still offer a similar experience through UPS Access Point® and FedEx Hold at Location.
ShipperHQ allows retailers to offer a personalized Amazon-style split checkout experience for their customers. On the backend, retailers can apply shipping rules based on the customer's geographic location and product type. This way, only the most relevant delivery options are displayed on the frontend, and shoppers can easily select the method that best fits their needs.
Ability to choose time and day of delivery
More and more merchants are losing customers due to capacity issues and a lack of control over when orders need to be fulfilled. A calendar date selection tool allows customers to choose a convenient delivery date and time, while allowing merchants to track capacity on the backend and complete deliveries on time.
Offer a clear return policy with a smooth return process
You've heard of curbside pickup, now get ready for curbside returns. This year, curbside pickup streamlined the delivery and pickup process for many, and in 2021 consumers will expect the same convenience for returns. Now that ecommerce is the norm, communicating the return process before and after a purchase is key because shoppers are more likely to return products they've never seen in person before. So simplifying that return process with curbside options will seal the deal on a great experience.
Evaluate your website and online shopping experience
Make sure there are no issues with your user's experience that could be harmful to your brand's loyalty.
Does your current technology allow you to adapt quickly to changing consumer shopping trends?
Is your site able to meet all the needs for a great customer experience from pre-checkout to post-checkout?
Does your online store offer a hyper-personalized and convenient online shopping experience?
If the answer is no to any of the above, it's time to reconsider your shipping strategy. Try ShipperHQ's flexible Shipping Experience Management platform FREE for 15 days to transform your shopping experience and start increasing loyalty to your brand.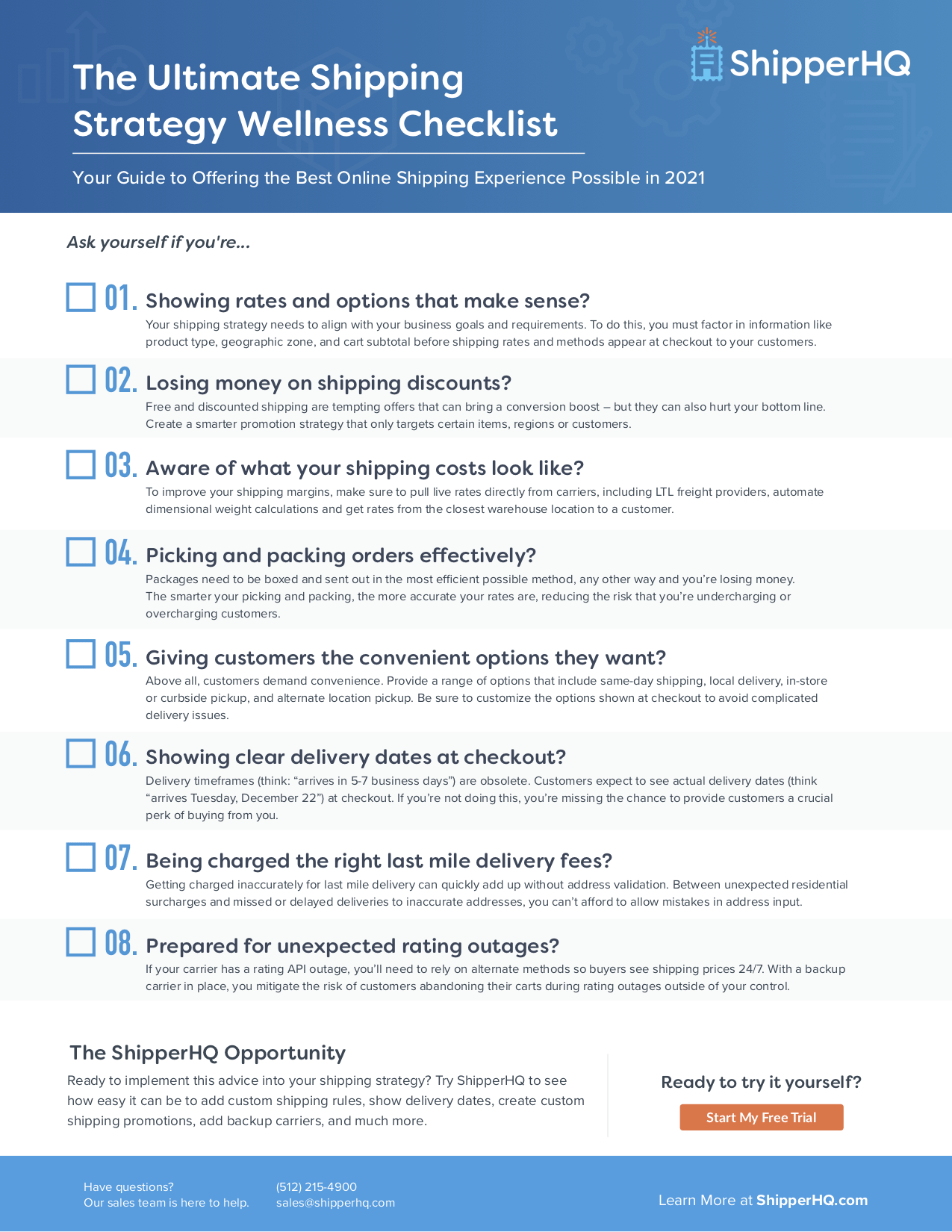 Right now, ecommerce stores are stretched tighter than ever.
Retailers must evaluate every move they make. And find new ways in 2021 to balance exciting growth trajectories with increasing customer demands around shipping.
If you're feeling the pressure of high order volumes, complex shipping needs, and high standards for customer satisfaction, we're here to help with our Ultimate 2021 Shipping Wellness Checklist.