Learn more about how ShipperHQ's LTL Freight feature can boost efficiency and accuracy to help convert more abandoned carts.
Are you currently struggling with finding an easier way to ship your wholesale orders? Or maybe you're getting slammed with heavyweight LTL shipping costs for your larger items that seem a bit extreme?
Well, you're in luck! ShipperHQ is here to help you with your LTL Freight Shipping needs — without the headache.
Did you know that 49% of people abandon their shopping cart because extra costs at checkout — like shipping — were too high? By utilizing state-of-the-art shipping software and providing customers with reliable rate transparency, you can turn those abandoned carts into conversions!
ShipperHQ's LTL Freight feature brings the small parcel shipping experience to LTL freight, all while saving you money and avoiding customer dropoff at checkout for larger items. We love a solution that helps everyone!
What is LTL Freight Shipping?
Let's take a step back for a moment and dive into the basics of LTL Freight Shipping. LTL stands for Less-Than-Truckload, which refers to a shipment of orders from individual suppliers that are then piled onto one truck. In other words, each retailer is paying for space on these trucks, based on the dimensional space of their order. Typically, these are used when you are shipping orders on pallets or boxes over 150 pounds. Not to mention, it's quite environmentally friendly, too!
Here's an image, in case you're more of a visual person: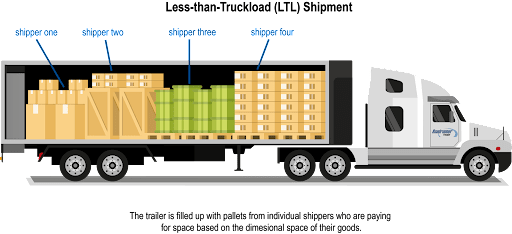 How Does LTL Freight Shipping Work in ShipperHQ?
Leveraging freight rates correctly can be a game-changer for an eCommerce business's margins. ShipperHQ integrates with over 30 freight carriers to give you the most flexibility when it comes to shipping your heavyweight orders.
For example, you have the option to assign your own shipping groups and create specific freight settings based on your products. Plus, you can choose to have your checkout automatically select 'Freight' as an option based on the item's dimensions, not simply when something is over 150 pounds.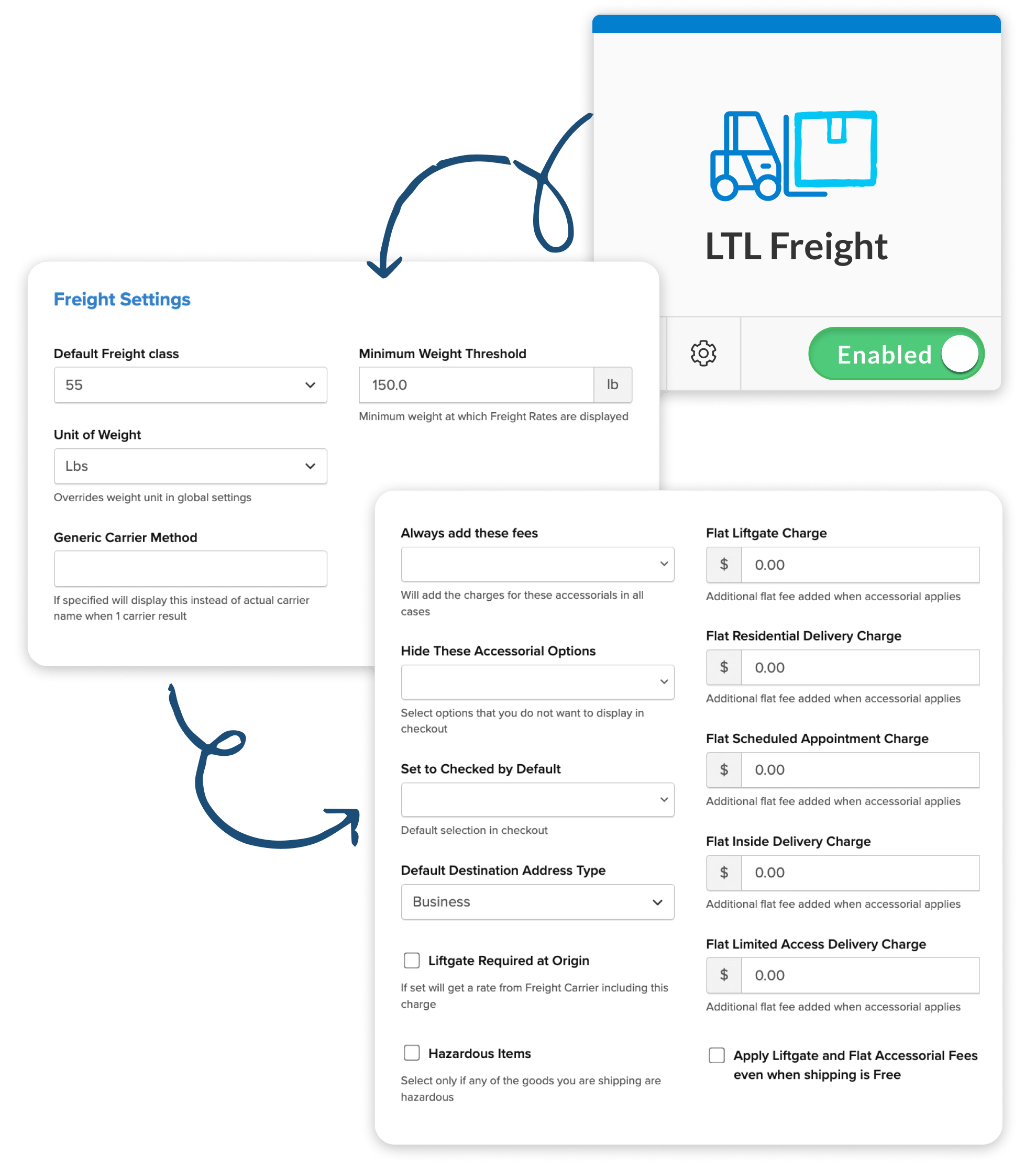 Quick Break to Chat About Our Friends: Kuehne+Nagel!
ShipperHQ and Kuehne+Nagel LTL+ are here to help you navigate your LTL freight shipping needs and your carrier relationships.
With Kuehne+Nagel LTL+, you can improve your LTL shipping strategy by working directly with their team to identify potential freight savings or opportunities to make your process even more efficient. 
If you want advice on LTL pricing strategy specifically, then they can help with that too! Their team can guide you through certain aspects of your strategy where you can find even more pricing solutions — like assigning freight classes or implementing accessorial charges, for example!
Want to chat more about how to deliver the best freight experience in your checkout? Get in touch with a Kuehne+Nagel rep directly today!
Why is LTL Freight Shipping Important to Me?
If you need to ship bulky or heavy products — or really just any product that takes up a lot of space — then working with an LTL Freight carrier is going to be a large aspect of your shipping operation.
LTL Freight can make it difficult to plan your shipping budget or to know exactly how to charge your customers who are buying those larger items! This is why it's so important to consider all your options when it comes to creating an LTL Freight shipping strategy.
In general, freight shipments are not very well-served in eCommerce. It's quite difficult to set up a repeatable process since rates are typically given from the carrier to the shipper right on the spot. This means it's very specific to ever-changing aspects like the time of shipment and how full the truck is at that moment. However, ShipperHQ makes this process super easy for you since we automatically determine the rates in checkout by incorporating your preset LTL Freight settings.
​​Customer Success Story Time
Let's have our customers tell you more about how their LTL freight shipping with ShipperHQ has helped them save time, money, and headaches.
ShipperHQ saved us about 15 man-hours per month from quoting freight shipments alone. Their freight quoting feature is more self-service, which means a customer can make a decision independently."– Andrew Brown, Director of eCommerce at Boat Outfitters
We analyzed the market of shipping calculation solutions. Honestly, ShipperHQ was the only choice that could handle our massive and complex freight calculation demands." – Helene Übelhack, head of Marketing at Bobbie.de
How to Implement a Winning LTL Strategy
There are many reasons why utilizing an LTL Freight shipping strategy is key to your business. Here is how you can use ShipperHQ to implement a successful LTL shipping strategy:
Effortlessly Connect with 30+ LTL Carriers and Third-Party Logistics Providers
Not to brag, but ShipperHQ offers live rates and service options from over 30 freight carriers (check out our full list of carriers here). So, whether you already have an account with a carrier or third-party logistics provider or are looking for options, we got you covered!

We also work with third-party logistics providers that offer even more carrier options that may not be directly integrated with our platform. Another shoutout to our LTL partner Kuehne+Nagel, as one example!

Streamline Shipping Processes of Heavy, Oversized Goods with Instant LTL Freight Rates at Checkout
One of the biggest challenges we hear from merchants is the lack of accurate, real-time LTL freight rates available at checkout. For example, right now you may need to contact the freight company directly each time a customer places an order. After you get the LTL rate, you need to go back to the customer to charge them for the rate. Exhausting and kind of a waste of time, right?

With ShipperHQ, you're getting an accurate LTL rate in real-time from one of our numerous carriers (hello rate shopping!). This means you don't have to worry about playing phone tag about rates or incorrectly charging your customers for LTL shipping. This is especially important if you are shipping bulky items that aren't necessarily considered "heavyweight".

Establish Your LTL-Specific Shipping Rules for More Efficient Margins
With better rate accuracy comes a more efficient overview of your shipping margins. Since we help you actually establish an LTL freight shipping strategy through live rates and setting shipping rules, you have more control over how you choose to ship these larger items.

In addition to carrier options, with ShipperHQ you can also set up your own LTL rules, like creating multiple freight classes and establishing maximum weight limits. This also includes setting up specific restrictions — especially important if you are shipping firearms, hazardous materials, or other highly regulated items.

Also, with ShipperHQ you get access to our address validation feature, which means you can determine whether an address is business or residential — this is key for you if you handle B2B or B2C shipments! Also, with these features, you can list any associated accessorial fees right at check out so you aren't on the hook for last-minute rerouting fees or surcharges.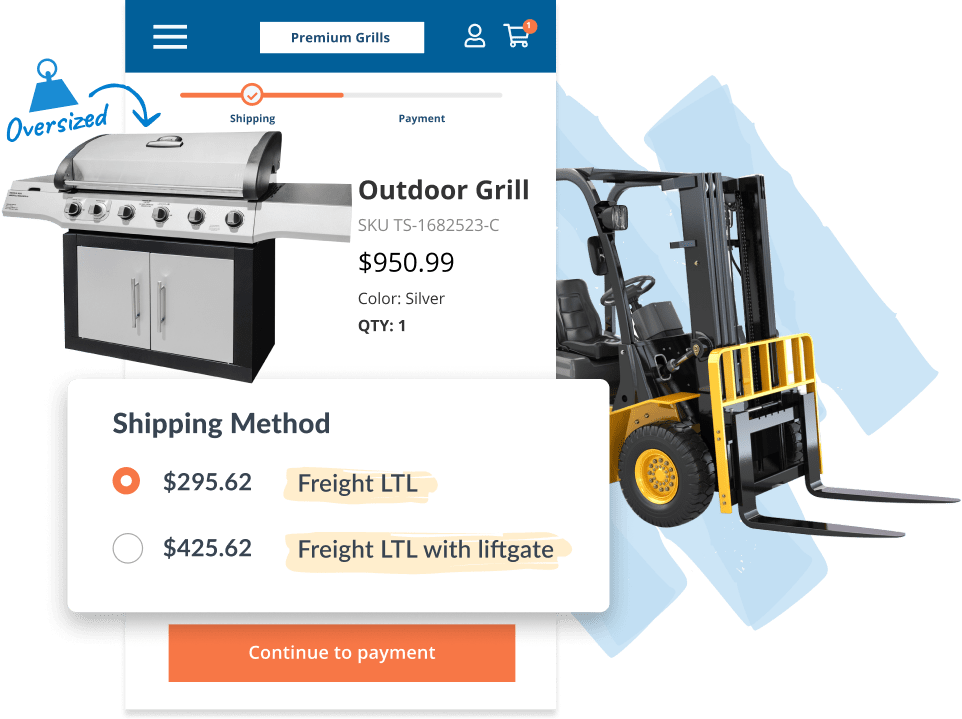 Decide How You Want to Present Delivery Costs to Your Customers
Determining how you want to charge for shipping is (obviously) a huge part of your overall shipping strategy and is entirely dependent on your company's margins, operations, and goals.

While LTL Freight with ShipperHQ gives you access to 30+ carriers for more accurate rates — along with our other offered goodies like dimensional packing and shipping insights — you also need to think about how you actually want to charge your customers for shipping specifically.

For example, you may decide that B2B orders are free of charge or passed entirely to the customer while B2C orders have a free shipping option for non-bulky/heavy items specifically.

Measure the Impact of Your Strategy and Adjust Accordingly
As we're sure you know, a smoother delivery means a better customer experience which leads to higher retention rates. When you can give your customers live LTL rates plus transparent delivery information right in your checkout, then you are more likely to convert those carts into returning (and happy!) customers.

Consistently check your own data to track the success of your LTL freight shipping — are you converting more carts? How are your retention rates? What are your customers actually saying about your service with their feedback? All of this information can give you direct insight into how your shipping strategy is working and where it may need to be improved (and remember, ShipperHQ makes it beyond easy to make changes to your LTL freight shipping rules!).
Are you looking for a better way to handle your freight shipping? Get started with a free 15-day trial with ShipperHQ for more accurate live LTL Freight rates and better results!